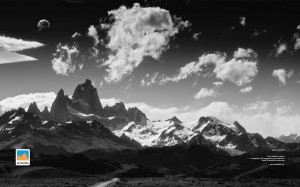 In the heart of the Southern Patagonian Andes -at the foot of the mitic Fitz Roy Mountain- lies El Chaltén, a small turistic town founded on the extreme North of Los Glaciares National Park. Behind the colossal granite walls dominating the view -as you can see on the photo above- there is the famous "Campo de Hielo Patagonico Sur', the most important continental ice mass of our planet after Antartica. Glaciers descend from these eternal Ice Fields, feeding the great lakes of this area. One of them is the famous Perito Moreno Glacier in the extreme South of Los Glaciares National Park. To get to this paradise of pure nature, first you arrive to the nearest town of El Calafate; by plane or by bus. From there, you go 215 km across the patagonian steppes on the recently paved roads along the shores of Lago Argentino and Lago Viedma.


Trekking Capital of Argentina
The region offers privileged sceneries for múltiple alternatives on outdoor activities and mountineering. In the area it is possibble to do dozens of treks: from small walks reaching lookout pionts with a minimum grade of difficulty to expeditions of many days or even the climbs of great, vertical walls; best reserved for experienced climbers. The most popular activities in the area are: trekking, climbing, camping, horseriding, going on excursions, photography, climbing courses, birdwatching, fishing, and visiting legendary "estancias" in Santa Cruz. For all these, El Chaltén has been proclaimed Trekking Capital of Argentina. Around this small town, there are many places of great, natural beauty you can visit. One to mentioned is Lago del Desierto at only 37km from the locality; that in contradiction to its name it is an unspoilt paradise of centenary woodlands, glaciers and cascades. At the same time, it is possible to go fishing, camping or trekking among other activities.
History of El Chalten
El Chaltén is the youngest town in Argentina. It was created on October 12, 1985 and began as a settlement used by the Province of Santa Cruz to consolidate its sovereignty over this territory. In 1994, the inconveniences with Chile about the area known as Lago del Desierto were solved in favor of Argentina.
In 1987, the city was definitely populated and it has not stopped growing ever since, both as far as population and infrastructure are concerned. The work carried out by the neighborhood development committee of El Chaltén had much to do with the growth of this district.
Its first dwellers were European immigrants who settled down in the area with the clear aim of carrying out different tasks, such as sheep husbandry. The settlement was not easy for these people, as they had to face diverse interests, an unknown language and many times harsh weather too. The names of the streets of El Chaltén pay tribute to these first and brave denizens. Immigrants from different places in Europe, who initially arrived in Puerto Arenas and then passed into the continent through the pass Ultima Esperanza, settled by the end of the XIX century and beginning of XXth in the area next to El Chaltén.
The first settler in the region was Fred Otten, then arrived the families: Ramstrong, Halvorsen, Rojo from Spain, Madsen from Denmark, then Martin Bjerg, Alberto Wittwer, Jean Henriksen, José Pérez Rubio, Wittwe and Mac Leod, all of them dreaming of common progress while working on different tasks like sheep breeding.
Visitor Services
The principal socioeconomic activity in El Chaltén is based on tourism -with high level of private investments- it offers many varied servicies and products that are in continuous growth. You should remember that because of the isolated geography of El Chaltén, it still has not got certain services such as cash machines.
Photo Gallery

The weather in El Chaltén
In general the climate in El Chaltén can be summarized in one word: "unpredictable".
After a beautiful raising sun in a warm morning you can expect abrupt changes of temperature and the sudden appearance of dense cloudiness, intense rains and even snow hours later (of course it is possible that could happen the other way round). This situation is a characteristic that may take you by surprise when you go walking in the trails. For that reason you must always be prepared and take waterproof clothing with you at all times although the day appears splendid.
Another factor to consider is the solar radiation, wich in these southern latitudes is accentuated considerably, being strong even in cloudy days. For that reason we highly recommend to use solar protection for the skin, always.